This is so me by the time the weekend gets here, how about you?
Be still my beating heart, it's Friday! Whoo-hoo, let the partying begin!!! Alright, I'm not a partying animal. I never have been, but Fridays signal to me it's my time to kick back and relax. Au contraire to what some may think, SAHM do look forward to the weekends just as much as working gals and guys.
Yesterday's post entitled
Yesterday
I asked questions regarding monetizing your blog. Please, if you haven't had a chance to give me your input and you have input on this topic then I certainly welcome reading your personal experience a little or a lot.
Oooo, did you by chance notice in my right side bar --------> Yes, Amazon is doing it again! They have dropped the price on my book, temporarily. This comes at a tremendous savings for you at Amazon's expense.
Do you know of any kiddos who would like a copy of it for their birthday or Christmas or any occasion? If so, order yours before the price shoots up again!
Now where was I? Oh yes, it's....

-
Lucky for me, lucky for you this is one of my Fridays which I can do a little blog hopping. With that being said, I'm going to visit Hilary's @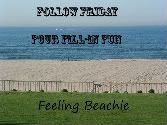 Each week, Hillary plans to list four statements with a blank for you to fill in on your blog. If you want to join the fun and come up with four fill in's of your own, please email them to her at
feelingbeachie@gmail.com
. If she uses them, then she will add you as co-host to the hop! This week's co-host is Beth Ann from
It's Just Life
(she came up with the last two statements)
It would give Hillary a lot of LOVE, if you could please help her spread the word about this hop -Tweet it, FaceBook share, and add the linky to your post…
This week's statements:
1.Somehow____ comes naturally to me
2.I could spend hours in a ____ store
3.If money and time were no consideration, today I would ____________________and _____________________.
4.You should always take time to _______________

My answers:

1.Somehow doing everything wrong(not really, it just sounds funny) comes naturally to me

2.I could spend hours in a virtual rubberstamp (remember, I hate shopping except for online!) store

3.If money and time were no consideration, today I would say to my sweetie, "Forget going to work today!" and then I would pack a weekend bag for us to venture off someplace without a care in the world.

4.You should always take time to each day to do something special for yourself. It makes no differenece what it is, as long as it gives you joy.
Time for you to have some fun. Hilary has a few rules, but they are totally doable. Here's all she's asking you to do...
Please add the

Follow Friday button

to your post, or your blog.
Next

Follow Hilary

, (you can follow me, too =D). If there is a co-host, please follow them as well. Leave a comment for Hilary and she will follow back (me, too!)!
Finally, link your

Follow Friday Four Fill-In Fun post

to the linky below and don't forget to grab the linky to post on your blog
Have a fun-filled weekend!