(c) 2011 Cathy Kennedy
Leaves of red and gold
Once on tree branches held
Lay now on the ground
Beneath my trampling feet I found
Came a crinkling - crackling sound
Above my head wispy clouds fly
Across velvet blue sky
Like a dandelion wish
Greeting me with a kiss
Umber fields naked and still
Orange pumpkins lay in rows
A little, wide-eyed girl I spy
Standing high on tip-toes
Watching a white-tail doe
Chase a black crow
Tasty sweet, yellow delicious
A treat so good and nutritious
Sprinkles of reddish-brown cinnamon,
Ginger, nutmeg, oh my
Baked up in an apple pie
Crimson berries we are missing
Cranberry relish we are wishing
Amber firelight's glow
Dashing away the cold
Outside the wind cries,
"Autumn is here."
"Autumn is here."
"But wait, winter is near!"
Follow me now for more Autumn Color posts @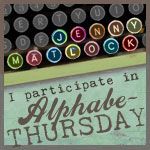 Thank you for hosting, Miss Jenny!
Next join me with Amanda in...
Poetry is something I'm dappling in. Let's face it, this just doesn't come to me naturally. My T2Q are:
This is my second attempt at writing poetry, what did you think...honestly?
Autumn's changing beauty fills me with a sense of happiness, what fall colors do you enjoy most?