K is for....
Is there such a thing as a real 'Knight in Shining Armor'?
Today this phrase is used figuratively and it refers to the era when gallant knights came to the aid of a fair maiden in distress. Acts of chivalry in the male gender are growing more and more infrequent. This is largely to blame on the feminism movement of the 60s. These men-haters began bashing men for wanting to care for women and down casting women for wanting this special attention.
God gave man the role as the protector - loving his wife, like Jesus loved the church. (Ephesians 5:25-28). The Bible also teaches that husbands should honour their wives. (1 Peter 3:7). A true man of God will not over step his authority, but to

exemplify

his role in a loving fashion with his wife.
For the majority, men have forgotten how or too scared to be a 'Knight in Shining Armor' because of liberalism. However, I do believe there are Knights among us. How do I know this? Whenever a stranger (man) holds the door open for me or if a man apologizes for saying something inappropriate in my presence these are acts of knighthood.
Why do women look for that mystical, near perfect man on a white horse to appear out of nowhere?
In all sincerity, I feel women treasure the virtues of a good man as outlined in the Bible - honest, courageous, loyal, self-disciplined, a leader, provider, and protector.
A woman wants the sense of....
her physcial & financial security = safety wrapped in a man's protective cocoon.
her emotional needs fullfilled = confidence with her integrity and self-disciplined man.
her spiritual satification = love from a good man's loyality and leadership.
The ideal man has gotten scarce over time. No man is perfect. A 'Knight in Shining Armor' needs his fair maiden to rescue. Let's undo the damage of the feminist and start by giving the man in our lives a reason to be a Knight again.
Here are just a few ways to bring out the 'Knight in Shining Armor' in your man...
Show your appreciation
Be courteous and polite, always say thank you or smile when your husband or a stranger does something kind (i.e. like open a door). I've heard a number of men express frustration because women do not reciperate their kind gestures with any form of acknowledgement. That's rude, lady!
Don't get offended
When a man whistles or looks you once over. Maybe, he likes the eye candy. Perhaps, he wants you to know how much he appreicates the effort you put into not looking like every other woman. I personally like the attention and don't mind telling you.
Allow a man to fuss over you
Next time, you need to be out after dark, ask your better half (come on you know this true) to join you. The weaker vessel, we are, but we are stronger in other areas. Your significant other will feel important and you'll be all the wiser for giving into his protective care. At this stage in the game, I know about the hiden dangers. I would never put myself in any harm, intentionally, just because I felt like I needed to prove something. I welcome the insulation my husband or son provides. I am put at ease with their presence.
I'd like to dedicate the below poem to my husband - Robin. You make me feel like a cherished treasure, as you hold me safely in protection from thieves & evil-doers. Thank-you, my Knight in Shining Armor!
Author: Anonymous
In this world full of hurt and pain,
I need someone who would help me through the rain.
To comfort me when Im sad,
Doing everything just to make me glad.
In this world I need a Brave Knight,
Who would never give up any fight.
A knight who would dry away my tears,
Telling me to overcome my fears.
A knight who loves me for who I am inside,
With him there's nothing more I need to hide.
A person who will still be standing strong,
Eventhough everything has gone wrong.
I need someone who is willing to give me more,
Someone I can call my Knight In Shining Armor.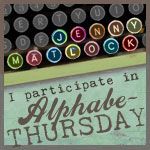 Kindly, link up Miss Jenny to the right....
Thanks for hosting!
Have a tremendous Thursday!