Each Monday, Java hosts Meet Me On Monday. This is an interesting way to learn about our bloggy friends with the various questions Java posts on her site for us to borrow. You're invited to link up at the bottom and enter your specific URL assigned to your Meet Me On Monday post, not your general blog web address.
Are you ready for a little blogging fun? Before we get started allow me to pass on Java attributes recognition of question #2 as compliments of Hilary at
Feeling Beachie
. Thanks Hilary for the cool question! Now, without further ado here are this week's questions:
1. What is your favorite kind of muffin?
Without question, blueberry muffins are my favorite! There is nothing like the mouth watering aroma of fresh blueberry muffins baking in your oven. Mmm, wouldn't you like to have one now? I sure would!
2. What was the first car you ever owned?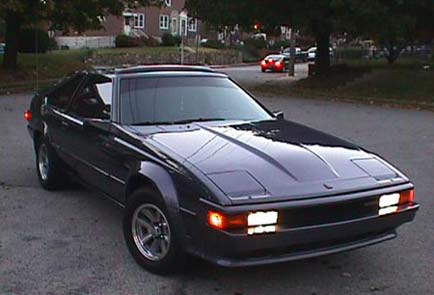 My first car was one my husband and I purchased in 1985, a Toyota Supra. Our color was a metallic macroon. It was so gorgeous! We didn't have kiddos in the day so we were able to be wild and unpredictable or maybe we were predictable because we were young. Anyway, it was a nice indulgence and one we don't regret. I'm happy we had our fun then, instead of having a mid-life crisis breakdown. lol
3. Which TV Show were you sad to see end?
My favorite TV Show in recent years is 24. We love this TV series so much, we own every season on DVD and we can watch it over and over and over again without getting tired of it. There's rumor a 24 movie is being considered or in production. I'm anxious to see if one pans out and to see how good it will be compared to the TV series. I think if the producers kept the original writers, then they'll have a super charge block buster.
4. What is your lucky number?
Lucky number? It's hard to have a lucky number when I don't really buy into good or bad luck, but I do have numbers I prefer. For instance, I like the numbers 3 representing the holy trinity. Also, I like the number 7 symbolizing God's creation of the world. I guess, I could call these lucky numbers because I sure do feel lucky knowing I have a heavenly Father who loves me so much. John 3:16
5. Pretzels or Potato Chips
I love both, but if I had to choose one and I know that's what you want me to do then I'll have to go with...you got it, potato chips!
It

just

occurred to me, this week's Meet Me On Monday hasn't yet been posted. I spent the better part of this morning answering last week's questions. Boy, is it ever Monday morning! My bad, folks. With that being said, I'm going to run with this post as is. Just know this linky is closed at the bottom, but you are welcome to try visiting Java's site to see if she has today's questions posted. Where's my cup of coffee?
Oh and as always, PLEASE be kind to either put the Meet Me On Monday button in your post or link your post back to Java. This is her baby and SHE deserves 100% credit for her efforts. A special thank you goes out to Java for hosting this fun Monday meme!
You may want to visit ...
Would you like to add a little Rock n Roll to your Monday? Then, check this post...
Santana MMM
Are you in need of a little inspiration this Monday? Watch for this post to pop up soon...
1000 Reasons To Be Thankful (51-60)